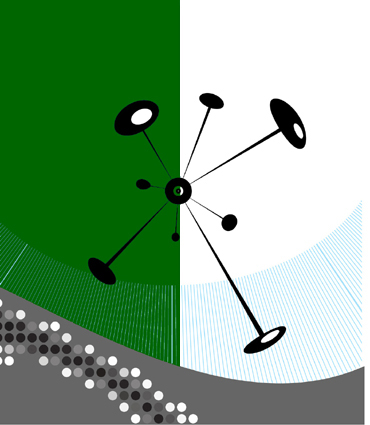 Archives

Vol. 15 No 3 - 1992
Vol. XV | 0705-4580 | Autumn/Automne 1992
Numéro thématique / Special Theme : L'émergence de nouveaux espaces régionaux / The Emergence of New Regional Spaces / Sous la direction de MICHEL BOISVERT, Guest Editor

Textes issus du colloque annuel de l'ASRDLF (Association de science régionale de langue française) tenu à Montréal du 1er au 3 sept. 1991 / From texts presented at the annual meeting of ASRDLF (the French-language regional science association) held in Montreal, Sept. 1-3, 1991

Présentation/Introduction

MICHEL BOISVERT
L'émergence de nouveaux espaces régionaux: articulation entre réseaux métropolitains transnationaux et maillage local transsectoriel
The Emergence of New Regional Spaces: Connections between Transnational Metropolitan Networking and Local Transsectoral Partnership

Les nouveaux réseaux métropolitains/New Metropolitan Networks

ANTOINE S. BAILLY et LOUIS S. BOULIANNE
Les nouveaux réseaux métropolitains: théories, études de cas et comparaisons internationales

ANTONIO CUNHA et JEAN-BERNARD RACINE
Changements structurels et évolution du système urbain helvétique: tertiarisation sélective et industrialisation diffuse

BERNARD GUESNIER
L'Arc atlantique. Un nouveau territoire pour de nouvelles activités

Les nouveaux espaces métropolitains/New Metropolitan Spaces

MICHEL BOISVERT
Le concept de zone d'entreprises et son applicabilité à Montréal

BERNARD PECQUEUR et NICOLE ROUSIER
Les districts technologiques, un nouveau concept pour l'étude des relations technologies-territoires

Le nouveau maillage social à l'échelle locale/New Social Networks at the Local Level

CAROLINE ANDREW, FRANÇOIS HOULE et J. YVON THÉRIAULT
La définition du local dans les nouvelles stratégies de développement

COLETTE FOURCADE
Nouvelles activités et création du local

JUAN-LUIS KLEIN
Le partenariat: vers une planification flexible du développement local?

DIDIER TAVERNE
Une innovation manquée: le territoire

Commentaire/Guest Comment

JEAN-MARIE HURIOT, CLAUDE LACOUR et ALAIN SALLEZ
Nouvelles activités, nouveaux espaces: un thème en gestation continue

Notes de lecture/Review Essay

Désindustrialisation et restructuration économique. Montréal et les autres grandes métropoles nord-américaines, 1971-1991. Pierre Lamonde et Yvon Martineau
par Pierre-Paul Proulx

Book Reviews/Comptes rendus

Cities, Poverty and Development: Urbanization in the Third World. A. Gilbert and J. Gugler. Second edition
by Huw Jones

Abstracts

Résumés

------------------------

Vol. 15 No 2 - 1992
Vol. XV | 0705-4580 | Summer/Été 1992
Numéro thématique: La création de milieux innovateurs / Special Theme: Creation of Innovative Milieus / Sous la direction de MARC-URBAIN PROULX, Guest Editor

Présentation/Introduction

MARC-URBAIN PROULX
Milieux innovateurs et développement régional
Innovative milieus and regional development

Articles

JEAN-CLAUDE PERRIN
Pour une révision de la science régionale. L'approche par les milieux

DENIS MAILLAT
Milieux et dynamique territoriale de l'innovation

MICHEL QUÉVIT
Milieux innovateurs et couplage local-international dans les stratégies d'entreprise: un cadre pour l'analyse

LAURENT DESHAIES, ANDRÉ JOYAL ET PIERRE-ANDRÉ JULIEN
Le recours au milieu par les PME québécoises exportatrices

BERNARD PLANQUE
Milieux locaux et politique technologique locale. Étude de cas

CLYDE MITCHELL-WEAVER
Public-Private Partnerships, Innovation Networks, and Regional Development in Soutnwestern Pennsylvania

ALBERTO BRAMANTI
The Spread of Cooperative Attitudes among Small Firms with Different Territorial Backgrounds: The Case of Northern Haly

MARC-URBAIN PROULX
Appartenance, utilités, fonctions. Le cas des milieux MRC du Québec

Book Reviews/Comptes rendus

Oded Stark, The Migration of Labor
by Kao-Lee Liaw

Donald J. Savoie, Regional Economie Development: Canada 's Search for Solutions, 2d ed.
by Ian MacLachlan

Maurice Catin et Paul Djondang, éd., Commerce international et économies régionales
par Pierre-Paul Proulx

Abstracts

Résumés

------------------------

Vol. 15 No 1 - 1992
Vol. XV | 0705-4580 | Spring/Printemps 1992

Articles

ALUN E. JOSEPH AND R. GRANT HOLLETT
When l'm 65: The Retirement Housing Preferences of the Rural Elderly

HASSAN BOUGRINE
The Role of Capital Formation in Economic Disparities Among Canadian Regions: 1961-1990

FERNAND MARTIN
L'impact régional de l'Accord de libre-échange nord-américain (ALÉNA) selon le paradigme régional-international

HUGH SEMPLE and R. G. IRONSIDE
The Impacts of New Resource Industry on Recipient and Adjacent Municipalities

PIERRE FRÉCHETTE, PAUL VILLENEUVE, MARIO BOISVERT, and MARIUS THÉRIAULT
Évaluation des retombées économiques régionales de l'Université Laval à l'aide d'un modèle calculable d'équilibre général

ANTHONY E. MYATT
Provincial Unemployment Rate Disparities: A Case of No Concem?

Research Notes / Notes de recherche

ANDRÉ LEMELIN
Matrices régionales de comptabilité sociale et flux implicites d'échanges interrégionaux

Reviews / Comptes rendus

Robert M. Bone, The Geography ofthe Canadian North, Issues and Challenges
par Louis-Edmond Hamelin

Peter Dicken, Global Shift: The Internationalization of Economic Activity
by Rob B. McNaughton

David W. Edgington, Japanese Direct Investment in Canada: Recent Trends and Prospects
by R. Keith Semple

Abstracts

Résumés




Back to Archives/Retour aux Archives

The CJRS gratefully acknowledges the financial assistance of the Social Sciences and Humanities Research Council of Canada. La RCSR remercie le Conseil de recherches en sciences humaines du Canada de son soutien.